Synthetic Roofing Underlayment
Home > Products > Synthetic Roofing Underlayment
Synthetic Roofing Underlayment is a highly engineered, roof-deck protection product manufactured and supplied by us, that acts as an effective and affordable secondary water-shedding barrier for your shingle roof system.
It is used beneath primary fiberglass, shakes, asphalt and tar shingles, stone coated steel roofing shingles, synthetic slate or sloped installations of standing seam metal panels.
Our underlayment is made using strong, robust polymers and processed additives. Specialized coating lines are added on the textured top surface fabric so it can act as a durable substitute for asphalt saturated felt. Additionally, the women polymer fabric is constructed to reduce slippage between roof sheathing and the underlayment.
Its 100% inorganic (synthetic) construction offers long term protection from moisture, rain, wind, snow, ice-dams, and mold growth, and it is functional in across all realistic temperatures.
Synthetic Roofing Underlayment is meant to replace #15 and #30 felt surfaces. Its high traction gray layer maintains a cool working environment for workers, and permits easier steep slope walkability. This makes new installations as well as re-roofing projects more time-efficient as they roll out flat. Our sizes provide 33% more coverage per pass across the roof versus 36" wide rolls.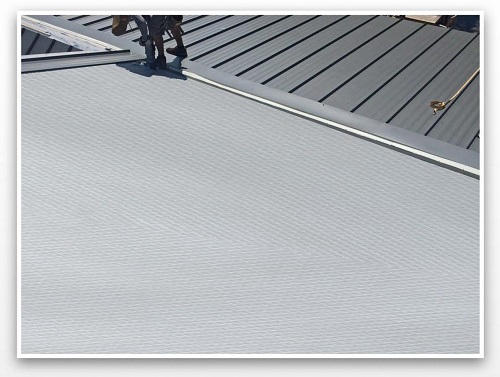 STANDARD AVAILABLE SPECIFICATIONS Thickness: 6 to 20 mils
Roll Size: 48"×250'
Material per Roll: 1000 sq. ft.
Squares per Roll: 10 squares per Roll
Storage: Upright, on pallets, in dry areas
UV Stabilized woven PP construction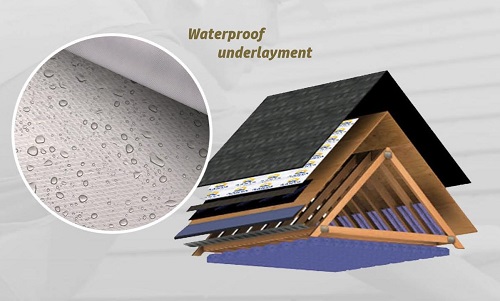 PRODUCT ADVANTAGES
• Lasts longer compared to felt paper underlayment, up to 12
months of UV Exposure without drying out.
• Does not wrinkle, tear, crack, expand or contract when
exposed to moisture, sunlight or other elements. This is
extremely helpful under harsh weather conditions.
• Lighter when compared to asphalt felt paper, which reduces
stress inflicted on the building's frame/structure and also
makes it easier for installers to haul up rolls onto the roof.
• Good slip-resistant grip while walking/working on roofs.
• Class-A Fire Rating in conjunction with Class-A Fire Rated
Roof assembly, offering highest resistance to combustion or
catching fire.